January 25th, 2023 · 6 comments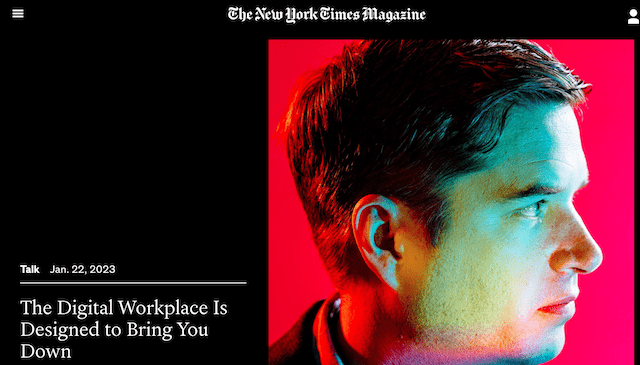 Earlier this week, the New York Times Magazine published a conversation between me and the journalist David Marchese.  We touched on a lot of the ideas about digital technology and the workplace that I elaborate in my 2021 book, A World Without Email.
At one point during the interview, however, I came up with a new metaphor on the fly, which now, looking back, I recognize as potentially adding a useful new wrinkle to my thinking on these topics. Here's the exchange:
Marchese: But hasn't the cultural-technological ship sailed when it comes to this stuff? Or, to mix metaphors, part of me is wondering if what you're suggesting is a little like saying that getting from place to place by horse is a lot more cognitively rewarding and humane than driving everywhere — which may be true, but no one's going back to horses. What company is going to tell its employees to cut back on email and Slack?

Me: The right metaphor here is not "Let's stick with horses, even though automobiles are around," because automobiles were clearly a more energy and monetarily efficient way of moving things from A to B, just like email is clearly a more efficient way for me to deliver a memo to you than a fax machine. The metaphor is that it took a while before we figured out traffic rules and understood that it can't just be cars going wild through the street. Eventually we figured out we need stoplights and lanes and traffic enforcement.
Almost by definition, if a technology rapidly spreads it's because it's doing something notably better than what came before it — be it delivering business information or drool-bucket distraction. Given this reality, nostalgia is often counter-productive: returning to an older generation of tools, in most cases, would be returning to less effective tools.